S
M
T
W
T
F
S
1
2
3
4
5
6
7
8
9
10
11
12
13
14
15
16
17
18
19
20
21
22
23
24
25
26
27
28
29
30
31
リンク
フォロー中のブログ
カテゴリ
以前の記事
検索
その他のジャンル
ファン
記事ランキング
ブログジャンル
画像一覧
Hail again to the Global Underground. Last weekend Tokyo welcomed Nick Warren at the number 2 rated club in the world, WOMB. It was also, coincidentally, Nao's birthday. So stacked with the necessary ingredients for love potions and pure fun we headed to Shibuya.
The party, to my surprise, was the best I've been to in 2 years. Now, Nick Warren is a leading world DJ on the same level (well, may be a little below) as Sasha and Digweed, but I did not enjoy their party nearly as much as I enjoyed his. One reason was that I was at the right club with the best 2 people. It wasn't overwhelmingly crowded and that gave us plenty of room to maneuver on the dance floor, the music was as great as it could get, and we met loads of fun people who shared our enthusiasm for house music. My two companions were shining balls of happiness bouncing off the walls taking me on the ride of my life.
Like Nao said, his birthday was legendary. Good fun all around.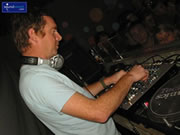 Last year it was Prodigy, this year Underworld; the event always gets top-notch performers. But the venue was too large even for the amount of people who attended. Underworld was a distant dot at the end of a huge convention hall. Yes, the music was great, but that much pushing could not be endured for 3 hours. On a lighter note, everyone who went enjoyed his or her time there.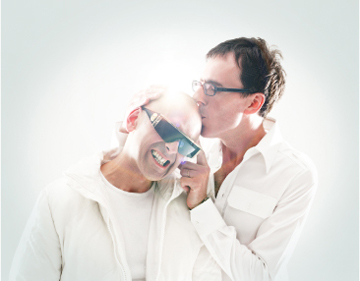 Sasha and Digweed... for the first time together in Tokyo. There were so many people who wanted to see them that Womb had to rent out a gallery.
Random crowd, strange venue, great music, best laser show I've seen.

This month Tokyo welcomes three of the world's most renowned house DJs--Sasha, John Digweed, and James Zabiela. Sasha and Digweed will play their first Tokyo gig together on November 22nd at the LaForet Museum in Roppongi, a well overdue event considering the pair's worldwide popularity. In the meantime, Sasha is doing residency at Womb. Tomorrow, November 18th, he is going to team up with James Zabiela--a junior member of the team on the rise--to bring Tokyo their U.K. beats.
Last week showed a fair amount of fans packed into Womb's intimate surroundings for the opening party, where Sasha performed alone. But be weary, Sasha's popularity will cost you hefty load. To enter womb you will need 5,500 Yen; and to see Sasha and Digweed you will have to get advance tickets for 7,000 Yen a piece.

November also brings Satoshi Tommie home to Tokyo with a party at Air on the 18th. The competition with Sasha and Zabiela will definitely be tough, but the event won't break your wallet. It's a mere 3,500 Yen.
Electraglide, the last event in November, is one of the biggest electronic music festivals of the year held at the Makuhari Messe convention center. This year Electroglide will feature Underworld, Coldcut, Autechre, Chris Cunningham, Vitalic, Carl Cox, Adrian Sherwood, Tiga, Towa Tei, Ken Ishii, Sharam Jey and The Light Surgeons. The tickets will run you 8,000 Yen each.
An expensive month for electronic music fans to say the least, but perhaps well worth it.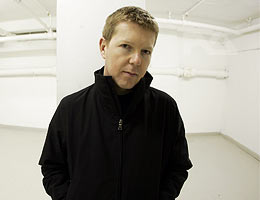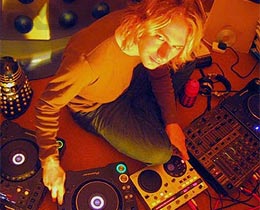 We got on the bus to Ageha at around 12 a.m. and immediately started boozing on chu-hi. We were at the club by 12:30 and got in without a problem. There was no line; we got lucky. Hernan was scheduled to play at 1 a.m. so we hung out by the poolside for 15 minutes. They had taken away the beach behind the pool stage. Or to be more precise, the beach was abandoned. It made for a depressing sight, empty beach chairs geometrically placed on damp sand soaked with recent October rain. That night it was raining too, but it wasn't cold, at least not with all the drinks. At 1 we headed straight for the main stage to wait for Hernan. But first we performed a little trick of getting drinks onto the dance floor. Hernan wasn't on the main stage, he took the upstairs booth, but he was as visible if not more flying above the crowd. He started out strong and kept up the energy until 6:30 in the morning. The mere fact that he played a set that long was amazing. It's a rare occasion in Japan when a DJ plays a 5 1/2 hour set. The longest I've heard was about 4 hours. We left the floor a few times to visit the outside bar and flirt with the bar tender. But we finished strong with the last two hours on the dance floor. Leaving at 6:30 in the morning was harsh, but well worth it.

http://www.hernancattaneo.com/bio.php
Last night Womb featured DEEP DISH.
They played a great set, breaking house with about a half an hour of dnb with psych trance elements. I wasn't really sure what was going on, but the crowd was going crazy. They built up the energy and then boke into something that sounded a lot like dnb. All I can say, is that it was not trance and it was not house, but psych dnb.
This is what the website had to say about them:
"The last time they play at WOMB, they played the tune which reversed a speculation that they played techno, and Drum'N'Bass! It is unpredictable how they will turn us on this evening! Be there." They did turn many people on last night.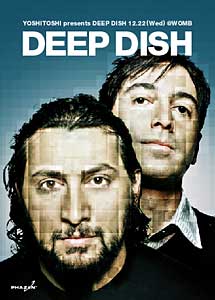 Last message in the series about this weekend.
On Saturday night I reapeated it again, this time with a different crowd. I went out with another AEON teacher and his two friends, one Japanese and one from Toronto.
First we went to a party in the fancy Ginza district, but we got there too late, and the waiters wouldn't let us drink. Therefore we said, "screw that!" and tried to move to another place. By the time everyone got around to moving it was too late and we decided to go see Adam Freeland (UK DJ) at Simoon.
When we got to Simoon it was already pretty late, but we still got some pretty good Adam Freeland action. The weirdest thing about the club was the crowd. I'm pretty used to Japanese people just chilling out and having a good time, but it seemed that Freeland brought half of London with him. Also, all these poeple seemed to be in the "in circle," like a publicity team of a hundred people. We were shocked at the randomness of the event.
I have to say though that the music was great. He played his signature Nirvana track and the crowd went bizzirk. He build up the track and then just led it into the original Nirvana. It was great! He played break beats for the rest of the night mixing occasional Sasha tracks and other stuff.
Overall a very enjoyable night and weekend!
ADDICTION vol.5
GUEST DJ:ADAM FREELAND (Marine Parade, UK)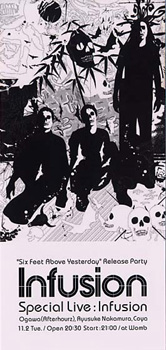 Went to see Infusion at Womb on November 2. As always they were great! My friend who was one of the promoters got to hang out with them the next day and I was really jealous. Also my friends hung out with Infusion at the V.P. lounge before they went on and all got free CDs, but I was late so I got jack shit. But the show was off the wall.




The event took place at the Makiharu Messe convention center and featured Prodigy, Darren Emerson and Tim Deluxe as well as other minor artists. For those of you in New York, imagine Javits Center being transformed into a rave. The place was that huge. I felt like a little child in the middle of a theme park with all my favorite rides. It was overwhelming even as we approached the structure. Two stages, two floors, I felt like I was back in Miami for a second, except I was under a huge roof.
Prodigy was fucking awsome, they put on a crazy show. I couldn't believe that I was hearing "Smack My bitch Up" live. They mostly played new stuff, but they threw in a lot of old stuff as well. It was a great show and I was pretty impressed.
As Darren Emerson came on following Prodigy we went looking for a quick snack. It took us about an hour to find each other and then find french fries. Everywhere we went they ran out of food. Due to our hunger we only saw parts of Emerson. He played a lot of the stuff from Miami, but he was blowing everyone's mind away. I wish I got to hear his entire set. At about 5:30 a.m. Tim Deluxe came on. He started off mixing Nirvana's "Smells Like Teen Spirit" and "Rape Me," then he mixed tracks from Sasha's "Involver" and Junkie XL's Elvis remix. I jumped in the crowed with a new wind of energy, but by 6 a.m. I completely lost it and had to get out. I was so tired that I couldn't tell if he was good or not anymore. He actually was pretty good, but I couldn't keep up, my body was cathing up with me. And at around 6:30 a.m. we left. Next time I'm going to be more prepared with proper substances and a video camera.
My final shout out goes to Prodigy and Darren Emerson.