S
M
T
W
T
F
S
1
2
3
4
5
6
7
8
9
10
11
12
13
14
15
16
17
18
19
20
21
22
23
24
25
26
27
28
29
30
31
リンク
フォロー中のブログ
カテゴリ
以前の記事
検索
その他のジャンル
ファン
記事ランキング
ブログジャンル
画像一覧
Remember how I wrote about ordering the Daily Yomiuri and never paying for it? Well, I've been enjoying my free newspaper since January (already three months). Remember how there was a representative that showed up at my door the same day I ordered the paper to locate my mailbox? Well, clearly, they knew where I lived, where my mailbox was, and what I looked like, so they had plenty of chances to ask for my bank account information or send me a bill, but they didn't and I resigned to the fact that they never would.
Last night, I was watching TV when the doorbell rang. If you're from Brooklyn you know not to open the door when you're not expecting anyone. But last night I wasn't in Brooklyn, I was in Tokyo. I went to the door and looked in the peephole; it was some lady. I asked who it was. She started to answer in Japanese. I thought, "The f…ing Jehovah's Witnesses again." I had no choice but to open the door since she already knew that I was at home. I opened the door devising a retreat strategy in my head.
To my surprise, the lady handed me a bill for 2,600 yen: "This is your Daily Yomiuri bill."
"Do I have to pay it now?" I asked.
"Yes, please."
I went to get my wallet thinking, "Couldn't they send me a bill? They know where my mailbox is."
I paid the lady, closed the door, and puzzled at the fact that in this IT driven impersonal world of soft money, the Daily Yomiuri still sends someone to collect my hard cash.
Yep, not everything in this country is as advanced as they say.
My job just got that much more exciting. We got this new "bloke" from Turkey. Charming guy and all... Except that my brilliant boss has him translating from Japanese to English. Let me make it clear… His First Language Is Turkish. My boss' best plan ever! You're Turkish—translate from Japanese to English—so that the Ukrainian b...tch that claims to have grown up in New York can curse like a British sailor while editing Japturkinsh gibberish into "standard English." The best job for a slacker —just make sh...t up and pretend to have spent hours on it.
Assignment #2: Write something about New York that Japanese people would be interested in reading. Restaurants and fashion are too outdated; everyone writes about that. How about cheap restaurants where New Yorkers go? Or, what about Japanese doctors and hospitals?
Rebuttal: Yes, because I go to see a Japanese doctor in New York on a weekly basis, I would be the best person to make recommendations. How about you make me do something that I'm actually capable of doing? Like, edit legible English into the "Chicago Manual of Style" English?
I'm going through writer's block, a sort of mental constipation, if I may say so. It may be because it's been raining for the past couple of days and I can't find anything to motivate my imagination.
I went to see Munich and was impressed with the way it addressed sensitive issues. Both sides got a fair share of spotlight. Kudos Spielberg.
It made me think of the Middle East as the world's vagina—the most delicate region. Rub it with a little too much force and it will explode with a yeast infection, or worse, nuclear weapons. It is the birthplace of three major world religions whose incestuous love/hate triangle continues to produce monstrous offspring. The violent love affair between Christianity, Judaism, and Islam, which constantly penetrates the Middle East, makes it the black hole that continually secretes a foul discharge: "51 Killed in Baghdad Explosion," "Hammas Comes to Power," "Attacks in the West Bank," etc. Like an infected vagina swarming with bacteria, the Middle East is swarming with militant groups, 'terrorists,' corrupt politicians, suicide bombers and all those who suffer from them on a daily basis. Perhaps a little bit of ointment from the World Bank or other such monetary organization to help kill the infection. Then, maybe, the mother of the civilized world and our religions can begin producing healthy babies. We'll just have to be careful and not touch it again with our imperialist hands.
Do you sometimes find yourself at work completely spaced out, unable to perform any sort of intelligible tasks? You stare at the computer screen in front of you and realize that you have to do this for the next 7 hours of your workday. I do almost every day. Considering that I work part time, that's pretty much every time I come in to work. There is a blockage in the pipe of communication where I work. No one knows what he or she is supposed to be doing. We just sit around and stare at our computer screens for hours. My company has no top-bottom, left-to-right, vertical, horizontal or parallel organization of how information travels. My boss tells me that the fifth floor wants me to do something that will make them money. O.K… Well… A little more guidance would help. "They want to sell you," she tells me. I choke on my coffee and tell her that I could make a lot more money selling myself in Kabukicho. After numerous meetings, which clarify absolutely nothing, I'm creating travel English lessons to be sold on the web. And guess what, they are selling me. I'm the one teaching the lessons on camera. The running joke in the company is that some Akihabara nerd will buy the lessons to masturbate. As long as they make money, anything's O.K. So here I am sitting in front of my computer trying to figure out what it is that I'd like to teach Japanese people about travel English and I still haven't figured out exactly what they want.
My foreign co-workers and I decided that we should start a naked circus wind quartet and tape our performances to sell that on the web. Sure that'll be a lot more interesting than hearing me stutter through my poorly written script in a cheap studio with a fake plant.
Are computers really replacing human interaction and becoming our new best friends? If you disagree, imagine your life without one and see if you can survive.
After spending hours with my computer, I can't help but agree with the sad truth. I spend more time with my computer than with any of my friends. That may, of course, be due to the fact that I live in Japan and human interaction is not easy here. But, even those in this country who speak the same language find live interaction troublesome. Japanese people will even go as far as buying a robotic pet instead of a real one.
I wonder if I don't intaract more with my computer than those on the other end of the line trying to communicate with me. It is my source of news, music, entertainment, creativity, movies, my DVD/CD player, telephone--in other words my link to the rest of the world. There are fewer occasions recently when I leave my computer to link myself to the world outside my apartment. I go to work, buy food, and occasionally meet my friends, but other than that my interactions are confined to my computer. It is my source of pleasure, and has even replaced a boyfriend figure in my life. On Saturday nights, I stay in to watch movies with my computer, listen to music with it and spend other quality time together. Sad? Yes, but inevitable.
Conclusion: Winter is the worst time for self-motivation.
A typical weekday at the Ruvinskaya/Zalinski residence: watching movies, dealing with emotional stress, and eating Japanese pizza. Decisions, decisions, decisions…
I've been thinking about what to write for about a week but nothing comes to mind, except that Tiffani is leaving Japan and me (stranded on this foreign island without a lifesaver), which means that I might be coming home a lot sooner than expected. There was an earthquake yesterday, but somehow I didn't panic…
I think the first year out of college is like freshman year of college—frustrating, unsettling, and depressing. Second year, logically, is like sophomore year—a little better—which means that by our 26th birthday we should be able to figure out what to do with our lives. But does it mean that the following year we will be back in square one? Theoretically, after the next four years of figuring out a life direction we hit mid-life crises. Does it get any better as we get older? Are we supposed to figure out where we are headed after our 30th birthday or end up in freshman year of high school—clueless?
On a lighter note, it snowed in Tokyo.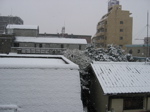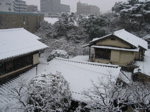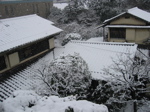 Like many things in this country, subscribing to newspapers can be an amusing cultural lesson.
After falling off this planet for a few months, I finally decided to get back into the news loop and subscribe to a paper. I chose the Daily Yomiuri as my provider of local daily news. As I filled out an online form for subscription, I clicked on the bank transfer payment option (without ever providing my bank account information). I also requested that my subscription start the following day, not really expecting to get the paper until the following week. So you will understand my surprise when the same evening a representative from the Daily Yomiuri showed up at my door to locate the correct mailbox. At first, I thought he came to collect my money or at least give me a payment application form, but he just wanted to make sure the mailbox was where it should be. He asked my name and told me that I had ordered the paper this morning. Then he said that because I ordered the paper to be delivered the following day, they needed to make sure they got the right person and mailbox. I said, "Yep, that's me." He thanked me and left. This morning there was no paper in my mailbox. Now, what does that mean?
I don't know if Sex and the City is supposed to make you feel great about New York or just homesick. Right now, I'm melancholically feeling the latter.
Here I am, on my bed covered in peanut shells, enjoying a day of sitting on my ass, doing nothing, and feeling guilty about it. Oh, I could have been doing a number of things instead, but I chose to stay in my pajamas and watch the show that will always be my favorite. One question rises to this occasion, why does Carrie Bradshaw have such a great body, while my ass keeps getting bigger by the minute? And, no matter how hard I try to start a healthy diet, I still cannot read the product labels in this country.
Perhaps, I should have just gone out and done something useful. Instead, I stayed at home with my new boyfriend, also known as computer, to learn about blogging and web design, which left me dazed and confused. Thus the unproductive day led me to such self-destructive behavior as drinking wine, eating peanuts, and watching Sex and the City; and also left me wondering if Carrie Bradshaw herself could have a similar day. All we ever see her do is attend social events and buy shoes. "I couldn't help but wonder," could Carrie Bradshaw sit on her ass and be unproductive all day long?
While I may be out of touch with what's going on in the real world, I sure do hope that Sex and the City is not last season.
Next time I should probably try to find a library, do something useful with my life, and finally start to take in what this city and country have to offer. I am, after all, currently living in one of the most glamorized cities in the world—the New York City of the Far East, a.k.a. Tokyo.