S
M
T
W
T
F
S
1
2
3
4
5
6
7
8
9
10
11
12
13
14
15
16
17
18
19
20
21
22
23
24
25
26
27
28
29
30
31
リンク
フォロー中のブログ
カテゴリ
以前の記事
検索
その他のジャンル
ファン
記事ランキング
ブログジャンル
画像一覧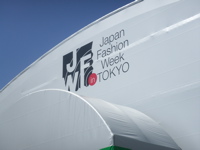 Has Japan arrived on the world fashion market? With its 'cool' street style one would surely think so; but has Tokyo produced brands that attract foreign buyers? On March 17th, Japan unveiled its 2006/2007 Fall/Winter Collections during Japan Fashion Week (JFW) in Tokyo. About fifty Japanese and foreign designers participated in the event. In an attempt to boost JFW's popularity, Fashion Strategy Forum condensed all collections into one week to follow the practice accepted in other cities. With a renewed interest in Japanese pop-culture and street fashion, designers in Japan are re-defining their brands and trying to bridge the gap between Japan's fashion industry and international markets.
JFW was the second event of its kind in Tokyo, organized with government support to advance Japan's fashion industry; since in the past decade, the industry has been losing talent to Paris and Milan, and lagging behind China and South Korea. As a prelude to the collections, JFW began with a symposium—"Fashion and Culture of 'Cool Japan'"—featuring Suzy Menkes, the fashion editor of the International Herald Tribune, as the keynote speaker. This symposium set the tone for the rest of the week—the main theme being Japan's ability and desire to capture foreign buyers and press and export its fashion abroad. Suzy Menkes was skeptical. "But can fashion in this city hit three high "Cs": cool, cute and creative?" she wrote in the Herald Tribune two days into JFW.
Unlike the political message established in Paris (Jun Takahashi, Viktor Horsting and Rolf Snoeren covered models' faces and heads in what was seen as a reflection of Islamic influences), Tokyo's was essentially commercial. Fashion Strategy Forum organized JFW around three main axes: the artistry of Japanese designers, Japan's innovative textile industry and Japan's business operations. In the words of Masahiko Miyake, the JFW Executive Committee Chairman, the JFW was about "the creativity of [Japanese] designers, the technological expertise of [Japanese] textiles industry, and a system of product delivery driven by the world's most demanding consumer market." The aim was to draw attention away from increasingly popular Western brands and promote Japanese fashion and textile industries on foreign and domestic markets.
Japan's fashion industry aside, the week also included blatantly commercial shows by Theory, (an American label) themed "Business-to-Consumer," and Edwin, Lee Something, Wrangler collective, titled "Jeans in Japan." Capitalizing on celebrity power, the latter opened to Brad Pitt on the screen and pop star Anna Tsuchiya with actor Hiroki Narimiya on the runway. These weekend events, open to the public, played on the willingness of the Japanese consumer to pay enormous amounts of money for foreign brands, but ignore some of its talented domestic designers. Unfortunately, such commercial displays show that Japan is still seen as a consumer of high fashion, not its producer.
JFW proposed a variety of ideas, styles, and trends without one clear message, but with several main directions. Among the big names showing in Tokyo were Junko and Hiroko Koshino, Toshikazu Iwaya, Yukiko Hanai and Takeshi Mori. The collections of Keita Maruyama, Toshikazu Iwaya, and Yukiko Hanai were a trip down memory lane—their garments evoked an antique past of ballrooms and aristocracy. Other designers such as Eri Utsugi, Kazuaki Takashima and Hiroko Ito combined cute, serious, conservative, fun, classic, and fresh, to present an inherently Japanese contrast of ideas and concepts. Junko Koshino was one of the few designers that explicitly used Asian motifs in her pieces. Many designers looked to the Western past of the 40's, 50's and 60's (some even further back) for inspiration and did what Japan does best: redefined it in Japanese terms. Others, such as A.D.'s Hideo Nishimura and Ylang Ylang's Ryunosuke Aoyagi struggled with identity crises.
The collections presented during the week were serious and mature, with fur and velvet playing an important role in establishing the mood. Black and white dominated the catwalk with grays and browns as supporting colors. The general trend was toward bubble skirts and jackets, furs, elaborate headpieces, corsets and over the top glamour. JFW took its observers to a distant and mystical past and future with shapeless forms, oversized pieces and asymmetry at Lilith (by Lily Barreth) and Yab-Yum (by Patrick Ryan and Mami Yoshida), and strict lines and defined silhouettes at Takeshi Mori, Yuki Torii and Yukiko Hanai.
Despite the commercial undertones, and identity struggles of some designers, JFW was a mixture of creativity, elegance, coolness and class, but lacked electricity and social glamour of a true fashion week. A low-key event, it failed to excite the attendees.
With mild success JFW showed that it has potential to become an influential event in the future, but it still has a long way to go in capturing foreign hearts. There is a conflict between Japan's street style sense and its ability to export that style abroad. Tokyo, in some sense, is the true capital of fashion, where it is played out on the streets more than on the runway. Nevertheless, while Paris, Milan, London and New York have established their niches, Tokyo remains an open question. What will Tokyo become in the world of fashion? With only 90 foreign press and 20 foreign buyers attending this spring's collections, the answer stays unclear. If nothing else, JFW will continue to provide a playing field and springboard for designers in Japan.
posted on www.ikjeld.com
A.D.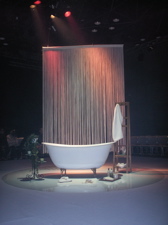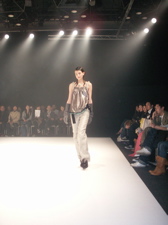 Ambiance Collections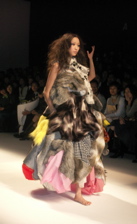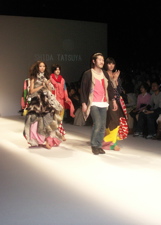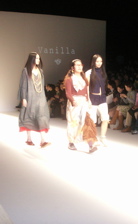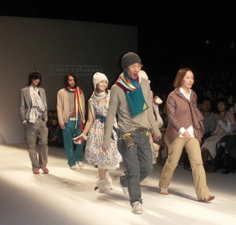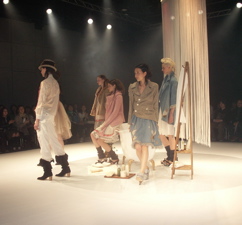 The Menagerie of mercibeaucoup
Mercibeaucoup, Eri Utsugi's debut collection, was the second show on JFW's schedule and already it overwhelmed the audience with a mix of ideas. This collection, implicative of Shibuya girls in animal character costumes, looked more like a zoo than a catwalk. Utsugi's trench coats, dresses and shirts were worn with hats and hairdos in dramatic animal shapes. The collection was warm, cute and at the same time jarring with its contradictions.
Japanese motifs, kimonesque forms, animal prints, box pleat dresses set against animal headpieces, made for the most avant-garde collection of the season.
21st Century Geishas by Junko Koshino
Junko Koshino put on an electrifying show that evoked all the enchantment of fashion. Her skillfully crafted dresses and robes, highlighted with elaborate headpieces, had a hint of a futuristic past. Hers was an extremely modern take on the theme of kimono and the sexuality of geisha. Black fitted dresses were decorated with obi-like inserts slightly above the waist and accompanied by wide kimono sleeves. Koshino combined bustiers and corsets with dragon printed skirts under kimono-patterned robes. Koshino's experience with opera costumes showed through in the grandeur of the collection.
Lilith's French Pierrot
Fall/Winter 06/07 at Lilith can be summed up as classic chic. Lily Barreth, a French designer based in Japan, hid body lines behind shapeless, asymmetrical, and oversized Pierrot garments. Lilith had an element of theatrical clownism—huge bow ties, long sleeves on large corduroy suits, and puffy skirts, accentuated by Dr. Martin boots with colored ribbons taken from Takeshi Dori. The collection, mainly of black and while, was spiced with neon green turtlenecks and red overalls. Barreth craftily managed to combine her French artistic heritage with Japanese pop-culture themes.
Yukiko Hanai's Breakfast at Tiffani's
Yukiko Hanai unveiled a beautiful haute couture collection in subdued browns and creams. Models wearing fitted and tiered dresses, lace, burgundy velvet suits, elaborate headpieces, and big flowery accessories ignited the audience. Watch out the power suit of the 80's and masculine lines. These garments were meant for seduction. The fitted lines and sexy earth tones accentuated female sexuality and sensuality. Resembling cinematographic costumes of Marry Poppins and Holly Golightly, the collection inspired women to be flirtations, elegant and glamorous.
Yub-Yum's Haunted Tent
Inspired by a recent Nicole Kidman horror film "The Others," Yab-Yum took its viewers to a haunted house. The tent was transplanted from Tokyo to an enchanted witch forest. Peasant skirts, corduroy jackets and pants in earthen colors, tall black trekking boots, feathery accessories, shapeless forms and layers, all combined to give the collection an outdoor feeling.
Yab-Yum's Patrick Ryan said after the show that, "There's pressure to always be new and different, to recreate yourself every season and surprise the critics." Yab-Yum's challenge this season was to work counter to its popularity and go back to its roots rather than search for newness. This season's collection included old ideas and pieces from previous years of Yab-Yum's 12-year history.
DressCamp: Pirates of the Caribbean on Acid
Renowned Toshikazu Iwaya wrapped up JFW with his highly acclaimed and anticipated haute couture DressCamp collection. Iwaya kept the anxious crowd waiting outside for an hour while he ran a late dress rehearsal to perfect the delivery of his collection. The appeasing pre-show Champagne only worked for the first thirty minutes. But, once the irritated fashionistas settled inside DressCamp's baroque castle, they were impressed with Iwaya's crisp brilliance. The curtain opened to Vivaldi's Summer from Four Seasons, filling the tent with dramatic tension and sexual energy as corseted courtesans and aristocrats in furs paced down the catwalk. Muscular Johnny Depp look a-likes, clad in tight transparent checked shirts, top hats and capes shot cool piercing gazes at the photographers and the audience. Iwaya revealed his "Phantom of the Opera-esque" masquerade with rose petals flowing from the ceiling and vulgar expressions of desire splattered all over the runway.
The collection was exactly what its name suggests—it was camp. Iwaya combined modernity with 17th century Versailles, sexual aggression with class, and everyday wear with theatricality. Headpieces, veils and corsets emphasized the artificiality of the entire show. Animal printed fabrics combined with real foxes on men's shoulders projected a feeling of fake greatness. Women sported bustiers slightly covered with flower printed transparent shawls.
The final curtain captured the tension on a climactic note and also signaled the end to Fashion Week.
posted on www.ikjeld.com
DressCamp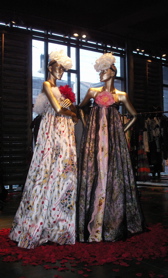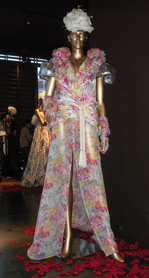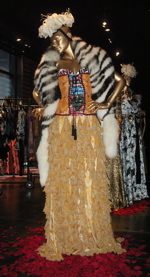 Tokyo, Japan—Fashion, Fashion, Fashion! Ah, the exciting world of Omotesando glamour and exclusivity, the street style of Harajuku, Shibuya and Akihabara, the absurdity of garu and otaku! We all love Tokyo fashion and consumerism, but this post is about neither. It's about my adventure as an amateur fashion writer.
Last week Tokyo saw its own fashion extravaganza, the 2006/7 Fall/Winter Japan Fashion Week, or simply JFW—an event comical in scale compared to major fashion weeks around the world. Somehow—perhaps by harassing many PR people and pretending to be a serious reporter—I was able to obtain a press pass to attend JFW. Among the designers participating were Toshikazu Iwaya, Junko and Hiroko Koshino, Kyoko Higa, Takeshi Mori, etc.
The fun part was bugging PR people about sending me last minute invitations and then ending up in front row seats at collection shows. I just told the organizers that, being a serious reporter, I didn't have time to contact them before the deadline, and it worked.
In an attempt to appear professional, I ran down to Kinko's to get business cards (in case anyone asked); and then presented them to the guardians of the tent before each collection instead of invitations. Eventually, however, pretending to be a real reporter exhausted my energy resources and I decided not to fight my way into every show. I tried to stay away from real reporters, or at least professional looking people, from fear of being uncovered as a journalistic scam. However, at the end of the week I made friends with all the foreign photographers and fashion blog writers. It turned out they all felt the same way I did.
The press pass afforded me such privileges as access to the press tent, which had free coffee and ice cream. I steered clear of the coffee machine because it looked too complicated (I was trying to attract as little attention as possible).
Upon entering the press tent, I was shockingly surprised at how serious everyone looked with their iBooks. "I should've brought mine," I thought, so that I too could pretend to be seriously working on my article and sending drafts to editors. Alas, I was resigned to my notebook. Upon this realization I decided to leave the tent and walk around the heavily unsecured event area.
During shows I sat with my notebook and a serious look on my face pretending to be a real fashion critic, bowing and making impressive head gestures of approval or disapproval.
At the Theory collection, before the show, a cute PR girl chased me around the tent with her business card: "Please send us the article when it's published." I kindly accepted and thought to myself: "Well, honey, if it's ever published, I'll make sure to send you a copy."
Though nothing like the Fashion Week in New York, JFW was still a fun adventure for this American girl in Tokyo.
I'm not going to review any of the shows because I did that for my article, which will be available online. Here are some pictures from Toei Johjima and Theory by my friend Peter.
To get reviews, check out www.japanesestreets.com