S
M
T
W
T
F
S
1
2
3
4
5
6
7
8
9
10
11
12
13
14
15
16
17
18
19
20
21
22
23
24
25
26
27
28
29
30
リンク
フォロー中のブログ
カテゴリ
以前の記事
検索
その他のジャンル
ファン
記事ランキング
ブログジャンル
画像一覧
Epitaph: "Hope is for the hopeless, because the rest will be all right."
--Richard Knobbs
(Singing birds in the background) Life in Tokyo can be such an amazing and rewarding experience… (Scratched record) Hmmm… No, not really. Life in Tokyo is pretty much like life in New York; it all depends on whom you know and how well you know them. Surviving in this city also depends on the same two factors. If you know enough people to get you into clubs for free, you party, if not, you dance to iTunes at home because you don't have any money. The biggest question is always, "Can you get me in on the guest list?" Once you've found your niche and those you milk there, it's hard to get out and move on to new and exciting things. Parties become mundane and outings to temples unholy.
After you spend a certain amount of years in Japan the novelty wears off. The "Harajuku girls" no longer excite you (Actually, they never excited me as much as they excited Gwen Stefani). "Hello Kitty" vibrators—have one (a collector's item). One becomes cynical about the way the city is changing: "I can't believe they destroyed those cute little houses on Omotesando to build that monstrous block of glass to house stores that no one can afford." I'm starting to talk like the bitter expats with bees up their asses. And I was once a pretty happy kid.
When people enviously email me to ask about life in Tokyo, I can't help but laugh. How is life in New York? I want to ask them. 'Cause right now it looks a lot more appealing than life here. Been here, done this—is my new attitude. The only thing left to do is climb Mt. Fuji. According to my theories the trip should provide me with spiritual guidance. My father believes that there's something wrong with my head if Mt. Fuji is more important to me than seeing my family. That's not necessarily true, I'm just trying to give Japan another chance to impress me before it fails completely.
If only all those people who get me into clubs could also get me a job that paid a lot of money and didn't involve me teaching them English. I've taught so much English that I now gesticulate and speak like a retard. While waving my hands I say things like:"I—w-e-n-t—to—a—p-a-r-t-y.—It—w-a-s—f-u-n! —D-o—y-o-u—u-n-d-e-r-s-t-a-n-d?" Besides that, I learned to research absolutely useless things and stare at my computer in disbelief--the disbelief being an allergic reaction to my boss and her assignments.
"I can't help but wonder" if the fleeting beauty of cherry blossoms will rid me of my cynicism. Honestly, I'm starting to lose hope.
It is a 25-foot-tall depressed abandoned gorilla bachelor in the midst of its mid-life crises looking for a life partner. How King Kong reminded me of all the men I've dated in the past few years—hyper masculine, stubborn, uncompromising, easily entertained simple creatures. And so the story goes: boy meets girl, boy pounds his chest and roars, boy saves girl, girl falls in love with boy—but a gorilla can't satisfy the woman's real need for love. Kong's rival is a scrawny, sensitive, nerdy, romantic playwright , Adrian Brody. Thus, there is a love triangle, which spurs competition between the meathead and the sensitive type. Reflecting the current notions of gender, the sensitive type, of course, wins; and the alpha-male is pounded off the Empire State Building with bullets. Romantic, sensitive love conquers all, but you can't help but feel sorry for the burly, hairy, and muscular monster of a man who tried to get the girl with physical display.
Jack Black's last line is, "Beauty killed the beast." But it is the woman that killed the beast--not her beauty--because we women always try to kill the beasts in our men.
Well, here it is, Christmas in Tokyo! So Very Merry Happy Christmas. Wish you all lots of smiles and happy days! Sorry for lack of creativity, but it comes from the heart.

By an interesting turn of events I got invited to go on a navy cruise that went from the navy base in Yokosuka to Tokyo. I, of course, dragged my unwitting roommate with me, and guess what she found on the ship... a boyfriend. Yes, that's right, a lieutenant.
There were lots of exciting new things that I learned on board, especially vocabulary. I'll let you guess what these mean, male officer's head, state room, PMS, and petty officer.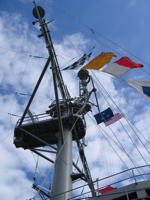 Cherry Blossoms season is probably the best and most beautiful time in Japan. It only lasts a week and only about one weekend. It is said that cherry blossoms are like a life of a person, they blossom to quickly and are carried away petal by petal even faster till they're gone. But for that one week all of Japan comes to life, people celebrate in the streets and parks, and everyone is happy and giddy. People get together for picnics and cherry blossoms parties under cherry trees; they sip on beer with co-workers and friends and go nuts. My most memorable cherry blossoms experience though, was in Kyoto two years ago. But this year as well, like every other person, I couldn't wait for cherry blossoms to arrive in Tokyo.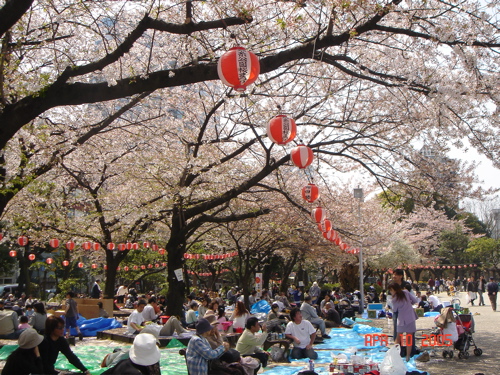 You can now all officially envy me because I got an i-pod for Chrismas! And it's inscripted too. I have to admit I love my new toy! Did you know that you can even buy socks for it? Well, for about $30 I can have a whole 6 striped socks. I think I'm going to have to make that purchase!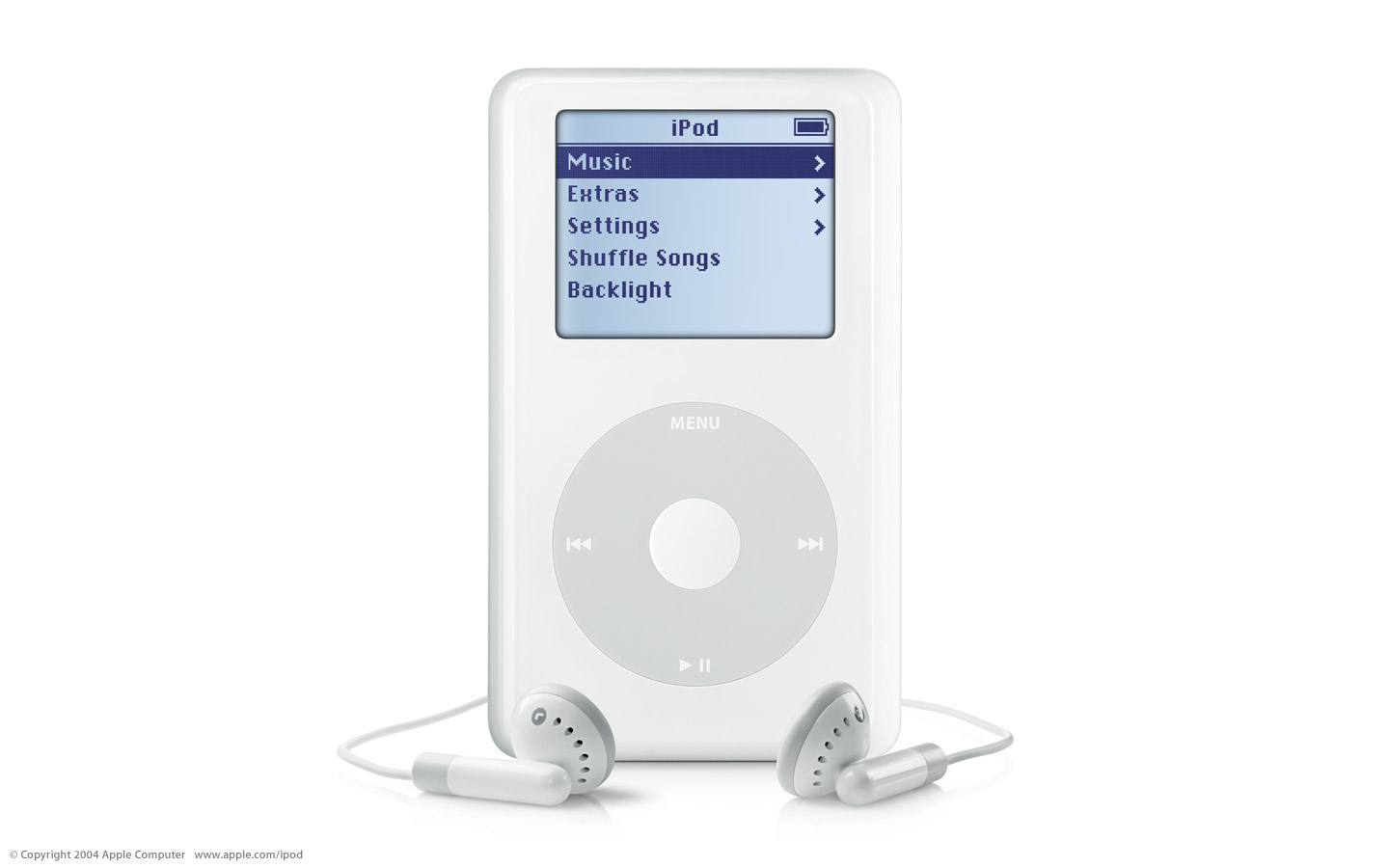 Unfortunately my camera got busted and I couldn't take a picture of my own, but mine looks exactly like this one and on the back it says, "the world is mine, kseniya ruvinskaya."
December 23 is a National Holiday in Japan. It happens to be the Emperor's Birthday. It also happens to be my brother's birthday. So Happy Birthday Emperor and Brother! And thank you for the Day OFF!!!
After Karaoke at about 6 a.m we went to Tsukiji Fish Market. It's famous because every morning fishermen auction off the biggest and best fish. Though we missed the auction, it was still pretty cool to see all kinds of fish and piles of frozen tuna. Because we were tired and intoxicated everything seemed surreal. I was in my own twilight zone, dazed and confused.
At about 8 a.m. after our breakfast of fresh sushi, I finally headed home.
This weekend was by all means one of the best so far. It's good to know that I can still surprise myself and find enough energy to party non-stop.
First, on Friday night, I went out with six French people. It was pretty rad, since they all spoke French (instead of Japanese) and sometimes English. I was the token American in the crowd. Surprisingly, they didn't hate on me (Grin).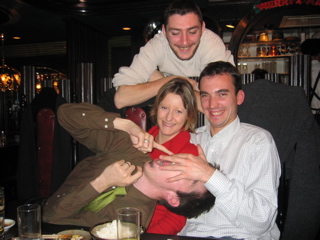 After we ate yaki niku (Japanese barbeque), we went roaming in Roppongi. Then we made our way to Muse, a combination of lounge space and club. The crowd was rather random; it was a bunch of sleezy foreigners and Japanese girls who tried to pick them up. The music was even worse, so we didn't stay long. We moved to Karaoke at around 3 a.m.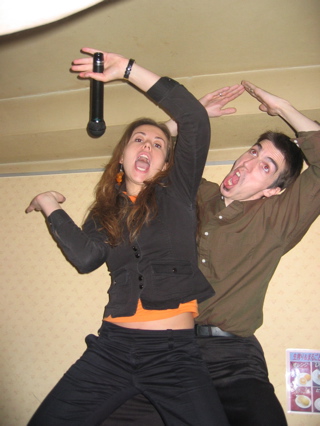 In case you didn't know, Tokyo too, has a Disney Land. The only difference is that all Disney characters speak Japanese.
I went there this Sunday, it was freezing and crowded. The great part is that Japanese people get so enthusiastic about Disney that it was fun anyaway. Also, Disney Land has special decorations and a lights parade for Christmas!