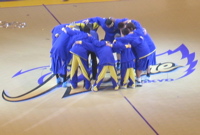 Contrary to what many people may think, the bj-league is not a survey of sex workers. It is the newly established professional "Basketball Japan League," which started its first season on Saturday, November 5th with a game between the Tokyo Apache and the Niigata Albirex at the Ariake Coliseum in Tokyo. The game went into overtime with the Apache defeating the Albirex 93-90.
The league is currently comprised of 6 teams—Sendai 89ers, Niigata Albirex, Saitama Broncos, Osaka Evessa, Oita Heatdevils and Tokyo Apache—but is planning to expand to twelve teams within the next five years. In comparison, the amateur corporate-based Japan Basketball League (JBL) has eight teams in its top-tier Super League and six in its Japan League. Two of the Super League teams, the Niigata Albirex and the Saitama Broncos, broke away from the JBL in 2005 to join the bj-league and were replaced by two teams from Chiba and Fukuoka to keep the number of teams at eight.
Perhaps the most notable addition to the league is Joe "Jellybean" Bryant, who joined the Tokyo Apache team as its head coach in June 2005. The father of LA Lakers Star Kobe Bryant and an accomplished NBA player himself, Joe Bryant was excited to take on a new challenge. He also brought two players from America, William Pippen and John "Helicopter" Humphrey. Both Pippen and Humphrey played for the Middle Tennessee State University, where Humphrey won the NCAA slam-dunk title. William Pippen, the nephew of former Chicago Bulls forward Scottie Pippen, played for Correcamines Tampico in Mexico before joining the Tokyo Apache. Humphrey distinguished himself last season as a guard in the American Basketball Association by averaging 30.8 points per game for the Boston Frenzy, a team that Bryant previously coached. The third foreign player, Jerone Dodd, played for the Saitama Broncos last season.