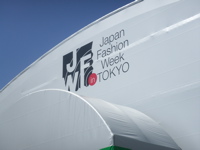 Has Japan arrived on the world fashion market? With its 'cool' street style one would surely think so; but has Tokyo produced brands that attract foreign buyers? On March 17th, Japan unveiled its 2006/2007 Fall/Winter Collections during Japan Fashion Week (JFW) in Tokyo. About fifty Japanese and foreign designers participated in the event. In an attempt to boost JFW's popularity, Fashion Strategy Forum condensed all collections into one week to follow the practice accepted in other cities. With a renewed interest in Japanese pop-culture and street fashion, designers in Japan are re-defining their brands and trying to bridge the gap between Japan's fashion industry and international markets.
JFW was the second event of its kind in Tokyo, organized with government support to advance Japan's fashion industry; since in the past decade, the industry has been losing talent to Paris and Milan, and lagging behind China and South Korea. As a prelude to the collections, JFW began with a symposium—"Fashion and Culture of 'Cool Japan'"—featuring Suzy Menkes, the fashion editor of the International Herald Tribune, as the keynote speaker. This symposium set the tone for the rest of the week—the main theme being Japan's ability and desire to capture foreign buyers and press and export its fashion abroad. Suzy Menkes was skeptical. "But can fashion in this city hit three high "Cs": cool, cute and creative?" she wrote in the Herald Tribune two days into JFW.
Unlike the political message established in Paris (Jun Takahashi, Viktor Horsting and Rolf Snoeren covered models' faces and heads in what was seen as a reflection of Islamic influences), Tokyo's was essentially commercial. Fashion Strategy Forum organized JFW around three main axes: the artistry of Japanese designers, Japan's innovative textile industry and Japan's business operations. In the words of Masahiko Miyake, the JFW Executive Committee Chairman, the JFW was about "the creativity of [Japanese] designers, the technological expertise of [Japanese] textiles industry, and a system of product delivery driven by the world's most demanding consumer market." The aim was to draw attention away from increasingly popular Western brands and promote Japanese fashion and textile industries on foreign and domestic markets.
Japan's fashion industry aside, the week also included blatantly commercial shows by Theory, (an American label) themed "Business-to-Consumer," and Edwin, Lee Something, Wrangler collective, titled "Jeans in Japan." Capitalizing on celebrity power, the latter opened to Brad Pitt on the screen and pop star Anna Tsuchiya with actor Hiroki Narimiya on the runway. These weekend events, open to the public, played on the willingness of the Japanese consumer to pay enormous amounts of money for foreign brands, but ignore some of its talented domestic designers. Unfortunately, such commercial displays show that Japan is still seen as a consumer of high fashion, not its producer.
JFW proposed a variety of ideas, styles, and trends without one clear message, but with several main directions. Among the big names showing in Tokyo were Junko and Hiroko Koshino, Toshikazu Iwaya, Yukiko Hanai and Takeshi Mori. The collections of Keita Maruyama, Toshikazu Iwaya, and Yukiko Hanai were a trip down memory lane—their garments evoked an antique past of ballrooms and aristocracy. Other designers such as Eri Utsugi, Kazuaki Takashima and Hiroko Ito combined cute, serious, conservative, fun, classic, and fresh, to present an inherently Japanese contrast of ideas and concepts. Junko Koshino was one of the few designers that explicitly used Asian motifs in her pieces. Many designers looked to the Western past of the 40's, 50's and 60's (some even further back) for inspiration and did what Japan does best: redefined it in Japanese terms. Others, such as A.D.'s Hideo Nishimura and Ylang Ylang's Ryunosuke Aoyagi struggled with identity crises.
The collections presented during the week were serious and mature, with fur and velvet playing an important role in establishing the mood. Black and white dominated the catwalk with grays and browns as supporting colors. The general trend was toward bubble skirts and jackets, furs, elaborate headpieces, corsets and over the top glamour. JFW took its observers to a distant and mystical past and future with shapeless forms, oversized pieces and asymmetry at Lilith (by Lily Barreth) and Yab-Yum (by Patrick Ryan and Mami Yoshida), and strict lines and defined silhouettes at Takeshi Mori, Yuki Torii and Yukiko Hanai.
Despite the commercial undertones, and identity struggles of some designers, JFW was a mixture of creativity, elegance, coolness and class, but lacked electricity and social glamour of a true fashion week. A low-key event, it failed to excite the attendees.
With mild success JFW showed that it has potential to become an influential event in the future, but it still has a long way to go in capturing foreign hearts. There is a conflict between Japan's street style sense and its ability to export that style abroad. Tokyo, in some sense, is the true capital of fashion, where it is played out on the streets more than on the runway. Nevertheless, while Paris, Milan, London and New York have established their niches, Tokyo remains an open question. What will Tokyo become in the world of fashion? With only 90 foreign press and 20 foreign buyers attending this spring's collections, the answer stays unclear. If nothing else, JFW will continue to provide a playing field and springboard for designers in Japan.
posted on www.ikjeld.com
A.D.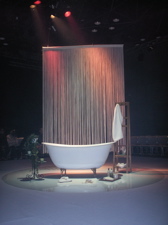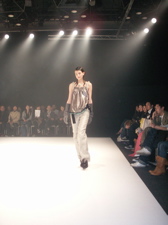 Ambiance Collections