S
M
T
W
T
F
S
1
2
3
4
5
6
7
8
9
10
11
12
13
14
15
16
17
18
19
20
21
22
23
24
25
26
27
28
29
30
リンク
フォロー中のブログ
カテゴリ
以前の記事
検索
その他のジャンル
ファン
記事ランキング
ブログジャンル
画像一覧
A typical weekday at the Ruvinskaya/Zalinski residence: watching movies, dealing with emotional stress, and eating Japanese pizza. Decisions, decisions, decisions…
I've been thinking about what to write for about a week but nothing comes to mind, except that Tiffani is leaving Japan and me (stranded on this foreign island without a lifesaver), which means that I might be coming home a lot sooner than expected. There was an earthquake yesterday, but somehow I didn't panic…
I think the first year out of college is like freshman year of college—frustrating, unsettling, and depressing. Second year, logically, is like sophomore year—a little better—which means that by our 26th birthday we should be able to figure out what to do with our lives. But does it mean that the following year we will be back in square one? Theoretically, after the next four years of figuring out a life direction we hit mid-life crises. Does it get any better as we get older? Are we supposed to figure out where we are headed after our 30th birthday or end up in freshman year of high school—clueless?
On a lighter note, it snowed in Tokyo.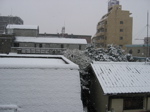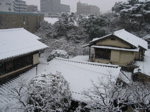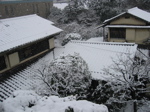 Like many things in this country, subscribing to newspapers can be an amusing cultural lesson.
After falling off this planet for a few months, I finally decided to get back into the news loop and subscribe to a paper. I chose the Daily Yomiuri as my provider of local daily news. As I filled out an online form for subscription, I clicked on the bank transfer payment option (without ever providing my bank account information). I also requested that my subscription start the following day, not really expecting to get the paper until the following week. So you will understand my surprise when the same evening a representative from the Daily Yomiuri showed up at my door to locate the correct mailbox. At first, I thought he came to collect my money or at least give me a payment application form, but he just wanted to make sure the mailbox was where it should be. He asked my name and told me that I had ordered the paper this morning. Then he said that because I ordered the paper to be delivered the following day, they needed to make sure they got the right person and mailbox. I said, "Yep, that's me." He thanked me and left. This morning there was no paper in my mailbox. Now, what does that mean?
I don't know if Sex and the City is supposed to make you feel great about New York or just homesick. Right now, I'm melancholically feeling the latter.
Here I am, on my bed covered in peanut shells, enjoying a day of sitting on my ass, doing nothing, and feeling guilty about it. Oh, I could have been doing a number of things instead, but I chose to stay in my pajamas and watch the show that will always be my favorite. One question rises to this occasion, why does Carrie Bradshaw have such a great body, while my ass keeps getting bigger by the minute? And, no matter how hard I try to start a healthy diet, I still cannot read the product labels in this country.
Perhaps, I should have just gone out and done something useful. Instead, I stayed at home with my new boyfriend, also known as computer, to learn about blogging and web design, which left me dazed and confused. Thus the unproductive day led me to such self-destructive behavior as drinking wine, eating peanuts, and watching Sex and the City; and also left me wondering if Carrie Bradshaw herself could have a similar day. All we ever see her do is attend social events and buy shoes. "I couldn't help but wonder," could Carrie Bradshaw sit on her ass and be unproductive all day long?
While I may be out of touch with what's going on in the real world, I sure do hope that Sex and the City is not last season.
Next time I should probably try to find a library, do something useful with my life, and finally start to take in what this city and country have to offer. I am, after all, currently living in one of the most glamorized cities in the world—the New York City of the Far East, a.k.a. Tokyo.
It is a 25-foot-tall depressed abandoned gorilla bachelor in the midst of its mid-life crises looking for a life partner. How King Kong reminded me of all the men I've dated in the past few years—hyper masculine, stubborn, uncompromising, easily entertained simple creatures. And so the story goes: boy meets girl, boy pounds his chest and roars, boy saves girl, girl falls in love with boy—but a gorilla can't satisfy the woman's real need for love. Kong's rival is a scrawny, sensitive, nerdy, romantic playwright , Adrian Brody. Thus, there is a love triangle, which spurs competition between the meathead and the sensitive type. Reflecting the current notions of gender, the sensitive type, of course, wins; and the alpha-male is pounded off the Empire State Building with bullets. Romantic, sensitive love conquers all, but you can't help but feel sorry for the burly, hairy, and muscular monster of a man who tried to get the girl with physical display.
Jack Black's last line is, "Beauty killed the beast." But it is the woman that killed the beast--not her beauty--because we women always try to kill the beasts in our men.
After my three day get away into the untouched parts of Japan, where I drummed rice into 'mochi' (rice dough), I caught the train to Yokosuka and made it just in time for the countdown. Feeling lonely, melancholic and abandoned, I arrived at my roommate's temporary residence ecstatic to realize that I had someone to accompany me into the New Year. Dirty and tired I jumped in the shower to refresh myself and attempt a makeover. Then, with a bottle of MOET in my teeth, a camera in one hand and a best friend in the other, I followed everyone to the fireworks. We hurriedly found a space in the crowd, close enough to see the action. It did not feel like we were welcoming another year, but just another day. When the countdown and fireworks finished, we managed to open the bottle of Champagne and drank from paper cups, which I rounded up from a street vendor. "Happy New Year!" we said. Happy New Year!
Well, here it is, Christmas in Tokyo! So Very Merry Happy Christmas. Wish you all lots of smiles and happy days! Sorry for lack of creativity, but it comes from the heart.
Christmas in Tokyo is a peculiar time. Filled with Christmas decorations and Christmas carols, you would think Tokyo was the most Christian town in the world. But no, the point of Christmas in this country is purely commercial. Which brings me to my next point, Christmas presents and holiday shopping. The big question is what to get for your friends and family? How about a Christmas cake? The idea that what you do on Christmas is sit around and eat cake decorated with colorful Santa Clauses could only be born in Japan. The next dilemma is what to do about a Christmas tree. How about nothing at all? Buying a real fern tree costs a small fortune, and disposing it is a headache. The small plastic trees are affordable but only substitute an excuse for a tree. So how about making one out of construction paper (which is what I plan to do)? Forget about Hanukkah, most people in this country think it's a Mediterranean dish similar to Falafel. Finding a menorah will prove more impossible than turkey and Christmas trees.
Now that you have decided what you are going to buy for your friends and family, and do instead of a Christmas tree, you have to decide what you will do on Christmas Eve. Of course you can go to a trance rave, but if you have a second half, you might want to consider reserving a table at an expensive restaurant. Christmas in Japan is as far away from a family holiday as Valentine's Day in America. In fact, Christmas is a Japanese version of Valentine's Day. I never heard a Japanese person saying they were going to buy presents for their family, only for their boyfriend or girlfriend.
So, now that you know everything there is to know, it's time to gear up and go shopping for yourself.